Tech-centric city living
Located mere minutes from the MCG, this Jolimont Street development is a modern technological wonder. Our team ensured the apartment complex met the security needs and technical requirements for residents today – and in the years to come.
Control Systems

Clipsal C-Bus lighting control
Switch Automation touch screens
Philips Pronto system controllers

Security & Access

Ness M1
Ness motion sensors
Ness reed sensors
Everfocus colour security cameras
Microlatch wireless keyfobs & receivers

Communications & Data

Comlit Diva colour intercom system per apartment
CAT5 data cable infrastructure

Entertainment

Liberty speaker cable throughout
Sonance flush mount in-ceiling speakers
Nuvo Grand Concerto multi-room music system

Television

Ikusi custom MATV distribution system
Liberty RG6 co-axial cable throughout

Lighting

Clipsal C-Bus wall switches & sensors
Clipsal C-Bus relay & dimmer modules
Specialised internal & external light fittings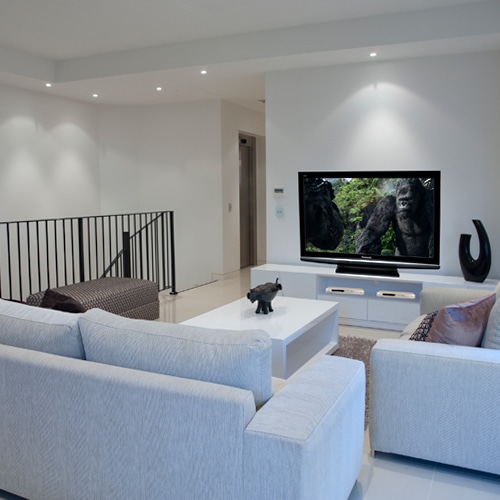 In a world where the integration of technology is becoming increasingly important, home owners are becoming more aware and dependant on electronics throughout the home.
Having a home that has a cable and wiring infrastructure in place at the time of construction, provides great flexibility for the new home owner to keep up with the latest technological developments.
Integrated Technologies Australia (ITA) was engaged into the project very early in the design process of the Jolimont Street apartments in East Melbourne with a brief to provide a technologically capable home without interrupting the sleek and clean design and décor of the apartments.
Energy management was considered with the specification of a Clipsal C-Bus lighting control system that was fully integrated with the security system allowing lighting to turn on and off as a functionality of occupancy.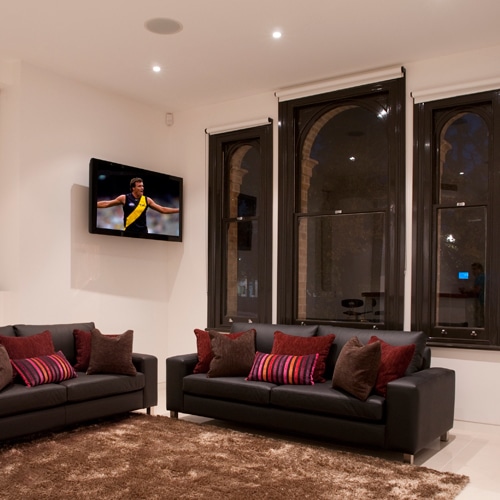 The apartment features a smart security system that protects the residents and the property.
Featuring a range of strategically located sensors, the alarm system will promptly dial your monitoring company if an entry breach is detected. Smoke alarms are fully integrated with the C-Bus lighting control system and will automatically turn on lights if they are triggered.
Can home automation transform your apartment? Learn more about our home automation systems.