Outdoor entertainment at its best
This home features automated technology throughout its living spaces and across its beautiful outdoor garden. It has an integrated entertainment system, including a large television screen complete with weather-resistance speakers.
Control Systems

Clipsal C-Bus lighting control
Crestron control system
Crestron wireless colour touchscreen
Aqualink spa control

Security & Access

Ness colour dome video cameras
Ness digital video recorder

Communications & Data

Toshiba intercom system
Toshiba digital PABX telephone system & handsets
High speed data network cable infrastructure
Wireless network

Entertainment

50" Wall-mounted plasma displays
Crestron audio distribution
Sonance multi-channel amplification
Nuvo dual AM/FM tuner
Discreet flush mounted in-ceiling speakers
Motorised television lift

Lighting

Clipsal C-Bus relay & dimmer modules, switches & sensors
Specialised internal & external light fittings
Garden & landscape lighting

Other

C-Bus control fireplaces
Custom electrical & C-Bus enclosures & switchboards
Motorised blinds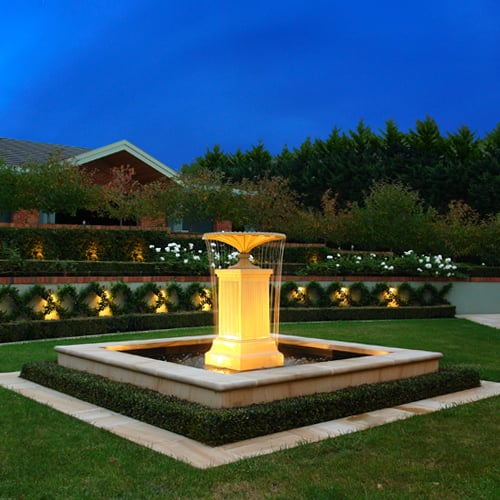 The client, a builder, was wanting a home that featured the latest modern conveniences including electronic lighting, motorised blinds, irrigation, plasma televisions and music system.
With a strong emphasis on entertainment, the rear garden features a spectacular outdoor cabana that houses a huge 20 person spa and an outdoor BBQ and dining area.
The outdoor area required extensive lighting to highlight the immaculate garden, timber eaves, pond, fountain and elm trees. The entertainment areas required outdoor music, coloured LED lights and a large motorised television.
A Clipsal C-Bus control system was specified to control external house lights, landscape and feature lights. The C-Bus system also controls the outdoor entertainment system and the spa pool.
A Crestron 10" wireless touchscreen provides simple whole house control. The controller controls the C-Bus lighting system, blinds, features, spa and audio visual equipment. Advanced programming allows full integration of the spa including water temperature adjustment and feedback and a 24 zone yearly schedule for irrigation.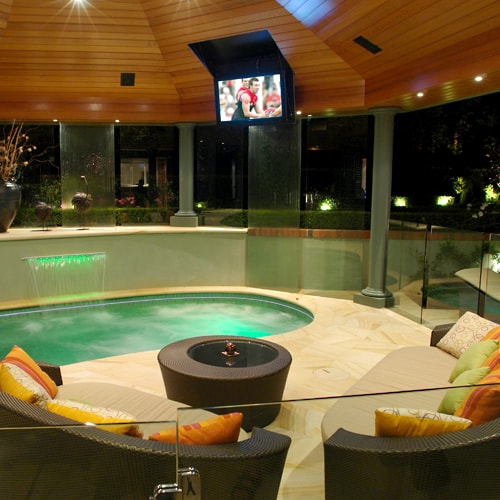 The timber-lined ceiling of the outdoor cabana features a large screen television that discreetly retracts into the ceiling with a trap-door style mechanism.
Controlled by the Crestron system controller, the screen retracts from the ceiling at the touch of a button. An array of extreme series weather-resistant outdoor speakers sit flush into the ceiling for added enjoyment of the audio from the television, Foxtel or the multi-room audio system.
The outdoor entertaining area features a large scale chessboard on a sandstone tile floor for large timber chess pieces for the enjoyment of guests. The board is illuminated by a series of lights that effectively highlight the playing area.
Internally, the home features motorised blinds and drapes, ducted heating, and gas fireplaces controlled by the C-Bus system. A pool table is positioned on the highly polished parquetry floor with energy efficient downlights strategically located over each pocket to provide ideal lighting without the need of hanging fixtures.
With a well designed outdoor entertainment area such an environment can be enjoyed throughout the year, even in colder seasons. Such an environment maximises the Australian lifestyle of outdoor entertaining, dining and interaction with water. The ability to entertain with music and vision enhances the experience with clever lighting adding to the ambience.
Want the best in home automation technology? Read more about our smart home automation systems.