Inspired by the home of high-tech
We fitted this relaxed Californian bungalow with smart, cutting-edge technology. Our future-proof solution combined diverse technologies from areas of security, data, entertainment, lighting and much more.
Control Systems

Clipsal C-Bus lighting control
Switch Automation interactive touch screen
Philips Pronto system controller

Security & Access

Ness M1
Ness motion sensors
Ness Reed sensors

Microlatch wireless keyfobs & receivers

Photoelectric beam sensors to gates & driveway

Electric strikes & locks to entry doors & gates

Communications & Data

National Communications intercom system
10 Gigabit data network cable infrastructure
Apple iMac Computer

UPS Power backup system

Entertainment

50" Wall-mounted plasma display

Home theatre system including DVD player

Discreet flush mounted in-ceiling speakers

Media Center

Lighting

Clipsal C-Bus wall switches & sensors
Clipsal C-Bus relay & dimmer modules
Specialised internal & external light fittings

Other

Fujitsu reverse cycle air conditioning system
Jetmaster fireplace controllable by C-Bus
Custom electrical switchboard & C-Bus enclosures
Velux motorised window & skylight blinds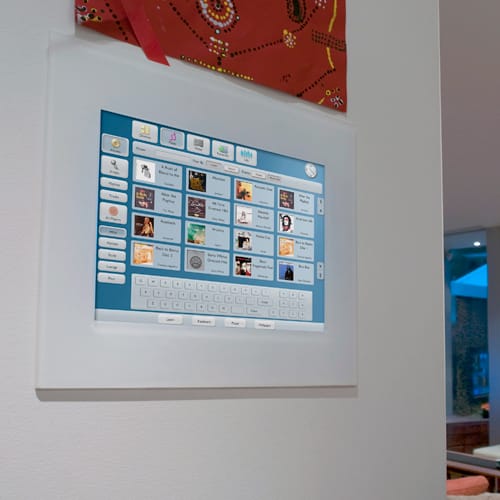 This charming Californian bungalow home, located in a leafy bayside Melbourne suburb, features many technological marvels that work with its traditional frontage and contemporary extension.
The design had to satisfy the client's budget and a need for a reliable and practical solution with audio visual, data, telephone, intercom, lighting and security needing to be integrated.
The client was technically savvy and understood the need for the home to be cabled adequately to allow for both current and future technologies. A high speed 10 gigabit data network provides the backbone and infrastructure to allow all-house connectivity and media streaming together with a wireless network for laptops and other mobile devices.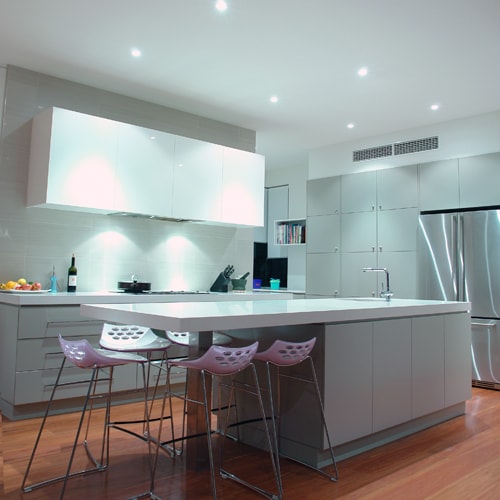 Internal and external lighting was integrated with the home automation and security systems keeping the family safe and secure.
Clipsal C-Bus switches and motion sensors, together with logic and an astronomical clock and scheduling allowed the lighting to operate as per predetermined schedules established in the design phase.
Lighting and irrigation operate as a function of movement, time of day, season, security status, sunrise or sunset. Landscape lighting illuminates the front and rear gardens providing an attractive entertainment area to the rear patio.
Keychain remotes activate and provide access through front and rear motorised gates and main entry door. Lighting scenarios are triggered when the security system is armed or disarmed as per predetermined requirements.
The system is also configured to prompt visitors to leave a message when nobody is home and can also be configured to call a mobile phone. The audio visual system also entertains the family without impacting the design of the living spaces.
Want to enhance your life and home? Learn more about our smart home automation systems.