Complexity made simple
Technology needs to make life easier, not more complicated. Our solution for this suburban home started with the foundations of a technological hub with intelligent lighting, audio and vision layered over the top. The result was the ultimate lifestyle experience for this family.
Control Systems

Clipsal C-Bus lighting control
Clipsal colour touchscreen

Audio Visual

50", 42" & 32" Television displays
Home theatre system including DVD player
Apple TV
Flush-mounted in-ceiling speakers
Concealed equipment & subwoofer

Communications & Data

High speed data network cable infrastructure
High speed wireless network

Security & Access

Ness M1system including panel, interfaces, motion detectors, switches, keypads and sirens
Microlatch wireless receivers & keyfobs
Takex Photoelectric beam sensors (3x locations)
Electric strike & locks to entry doors & gate

Lighting

Clipsal C-Bus switches, relays & dimmer modules
Internal & external light fittings

Other

Motorised window & skylight blinds
Hills digital antenna system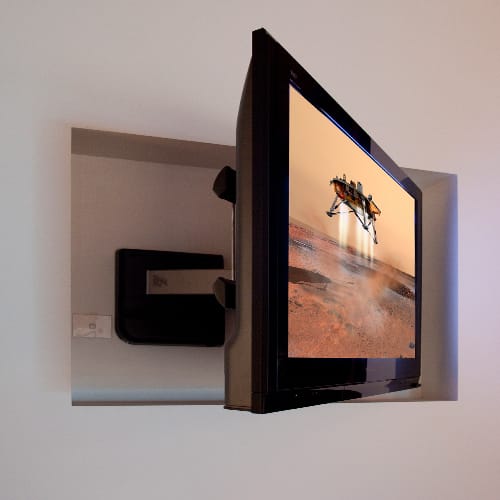 This beautiful living space required equally beautiful home automation technology.
The client, who has a technical and programming background, had many requirements regarding AV control, multi-room audio, power metering and flow metering and set very specific objectives. The design also had to satisfy needs established by the architect.
Audio visual, data, HVAC, lighting, metering, multi-room audio and security systems needed to be integrated. A wall mounted television with in-ceiling speakers, subwoofer and centre speaker concealed within the joinery was provided to watch television and DVDs in the Piano room. A similar system was provided for television and DVDs in the Master Bedroom. A motorised wall mounted television automatically extends for optimum viewing and retracts when the television is turned on or off.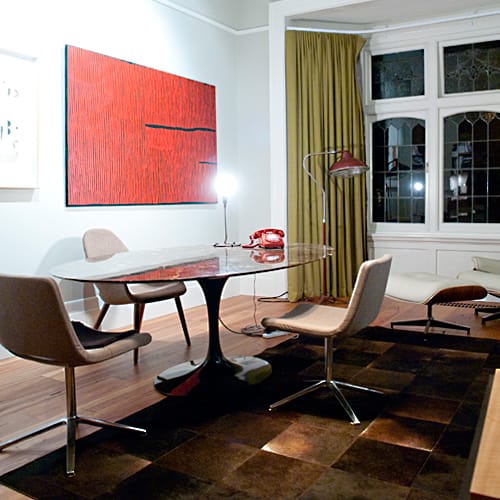 Multi-room audio was provided to twelve areas.
Each area has an iPod as a single source and in-ceiling speakers. Variable volume from the iPod dock switches on the auto sensing multichannel amplifier – a very simple solution that suits the client's needs. Cabling allows for future streaming of music.
The cabling infrastructure had to cater for future high speed data, IP based technologies and in particular future Apple technologies. A 10 Gigabit data network was installed through out the home for future all house connectivity and media streaming.
Inspired? Discover more about our smart home automation systems.