Efficiency and comfort and not mutually exclusive
This home shows that living green doesn't mean living lean. Our team swept this stunning home with a comprehensive suite of efficiency improvements – from LED lighting to water collection – while improving acoustics and entertainment features.
Control Systems

Clipsal C-Bus lighting control
Clipsal C-Bus colour touch screen
Philips Pronto system controller

Security & Access

Ness M1 system including enclosures, interfaces, motion detectors, switches, keypads and sirens.
Microlatch wireless keyfobs & receivers
Photoelectric beam sensors to gates & driveway
Electric strikes & locks to entry doors & gates

Communications & Data

Comlit colour video intercom system
High speed data network cable infrastructure
Wireless network
UPS Power backup system

Entertainment

50" Wall-mounted plasma display
Home theatre system including DVD player & DVR
Discreet flush mounted in-ceiling speakers
Concealed subwoofer

Lighting

Clipsal C-Bus relay & dimmer modules, switches & sensors
Specialised internal & external light fittings
Ecolume 3 watt 6500K high intensity LED light fittings

Other

Atkar architectural & acoustic ceiling treatment
Custom electrical switchboard & C-Bus enclosures
Motorised blinds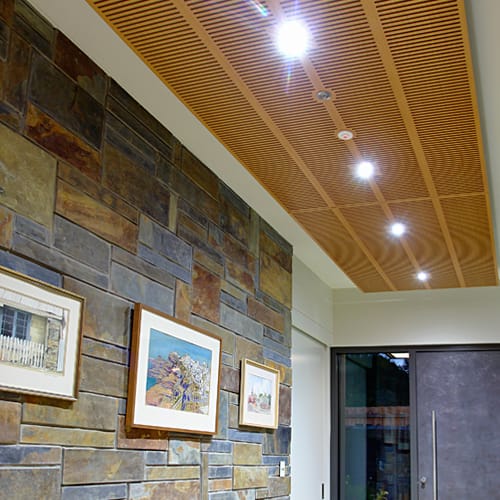 The solutions implemented in this architectual home were required to be energy and resource conscious whilst still providing a functional and comfortable home for the retired owners who were downsizing.
The final scope of works included detailed functionality focused on: low energy LED lighting, use of solar energy, collection of water, acoustics, central locking, emergency lighting, emergency power and remote support.
Other requirements were to include data, telephone, intercom, full electrics, free-to-air TV, pay TV, audio visual, security, lighting, blind, awning and HVAC control.
100 x 3 watt LED light fittings throughout the home were integrated with a Clipsal C-Bus lighting system that enabled the home to draw approximately 300 watts maximum for all house lights compared with 3500 watts with traditional halogen globes, equating to an approximate 90% saving in energy consumption for lighting.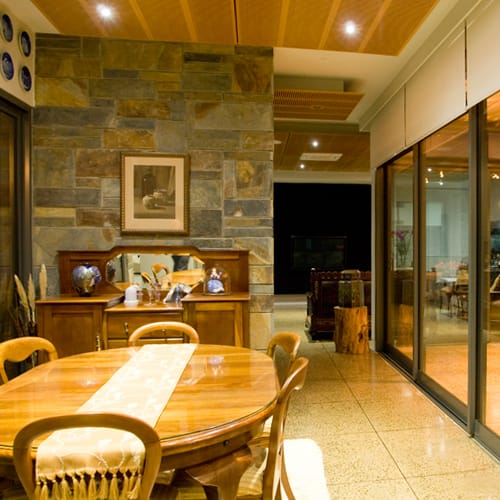 An acoustic solution was required to counter the uncomfortable sound environment created by polished concrete, stone and glass used throughout the home.
Architectural slotted Atkar acoustic treatments were fixed to the ceilings and packed with acoustic absorbent insulation. The solution eliminated unwanted echo to provide a comfortable environment. The home theatre experience was enhanced with the installation of a VAF Research sound wall which was designed to add to the acoustic performance of the room.
C-Bus, security, motorised blinds, motorised pergola roof, motorised gate, electric door locks, intercom and HVAC systems are integrated and configured to provide added convenience controllable via pre-determined schedules, security status, key chain remotes, wall switches, audio visual system controller and touch screen. The garage door automatically closes at night if left open and all perimeter doors can be centrally locked from the touch screen. Keyless entry to garage, motorised gate and perimeter doors are provided by keychain remotes.
Remote access is provided to the home to allow remote support of computers, touch screen, C-Bus lighting control and the security system.
The result speaks for itself – all project stakeholders were exposed to the consciousness of our environmental issues through the client's need to contribute to the greater community by considering energy and resource conservation.
Inspired by the possibilities? Learn more about our smart home automation systems.