How to convert your home to a smart home
Smart homes are not just a future possibility. The technology to convert your home to a smart home is available right now. You can take a step by step approach introducing new elements along the way, or make the transition to smart living in one big leap. Either way, there are some key factors to consider when converting your home to a smart home.
Integrated Technologies Australia is an award-winning company that specialises in integrated technology. We can help you implement smart technology in your home, starting with a consultation.
Making life simple
Smart homes make life simple. There is obviously high-level technology and sophisticated software systems that need to come together to create a smart home. But, the main goal of creating a smart home is to make your life easier and more efficient.
Many homeowners already operate a security system, entertainment system and heating and cooling systems. But most of these operate independently and require direct user input to switch them on and off or change their settings. ITA takes these independent systems and creates one integrated system with a central user interface.
It is vital to remember that moving to a smart home is not just about adding technology to your home. It is about simplifying your life. That's why it is helpful to engage with an expert in integrated solutions to help you achieve your objectives with the technology you choose.
Main elements of a smart home
Smart homes integrate several elements of home life into a single technology hub. While not every element needs to be included in your home, it is a good idea to keep the big picture in mind so that you can add to your solution over time. Here are some of the primary elements of a smart home:
Security systems that include alarms, CCTV cameras, home intercom systems and locking systems like fingerprint scanners.
Entertainment systems like streaming services, multi-room music and content delivery anywhere in the home.
Efficiency systems that include switching lights on and off as well as adjusting colour and brightness. Fast internet and wifi also fall into this category.
Comfort elements like air conditioning and blind or curtain control. Smart homes can automate starting or stopping air conditioning when people enter and leave the home.
The backbone of a smart home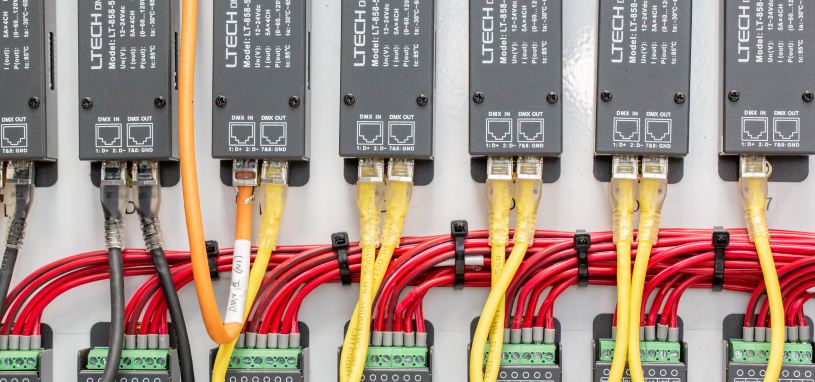 Smart homes work with connected smart devices. The wired and wireless infrastructure of the home is critical to facilitate the maximum use of smart technology. This is why it is always easier to plan your smart home requirements into planning and building a new home than to retrofit an existing home. Nevertheless, if you first give sufficient focus to the home's connectivity, any home can be converted into a smart home.
Smart home hubs like Google Home and Alexa started out as speakers for controlling music. But these devices have evolved to become the central control system for many smart systems and devices. Modern hubs control everything from lighting to heating and cooling a smart home.
Voice control is also becoming a standard feature of smart homes. Alexa, Google Home, and Crestron (designed for fully integrated homes) allow users to interact with their devices without reaching for a remote or control screen. When you are away from your home, you can still check on the system status or even make changes from an app on your smartphone.
Working with an expert
The hype around smart homes is growing as more and more people have aspirations of converting their homes for smart living. This momentum may cause people to reach out for solutions that meet a specific need but do not integrate well with others. Homeowners who take this approach may find themselves having smart security, smart entertainment, or smart efficiency without ever being able to achieve a smart home.
Integration experts always start with the big picture and then implement a plan that leads them towards that goal. ITA has a four-step process for working with clients to create a smart home:
Consultation with the client to identify their needs, expectations and functionality requirements.
Design a solution and select products and devices that meet the needs reliably and sustainably.
Build the solution using professional and accredited technicians and installers.
Manage the project with a dedicated ITA representative offering a single point of contact for clients.
Contact ITA to convert your home to a smart home.
The ITA team has a track record of successful smart home conversions that stretches back to 2005. We have developed a reputation for our expertise in smart home automation and energy management and have won several awards in our industry.
Our home automation systems have remote access facilities. With your permission, our technicians can monitor system logs remotely and change the programs at your instruction.
Contact ITA to speak to a thoughtful home automation expert about converting your home to a smart home today.
Must Read
ITA on 1 January 1970
ITA provides innovative energy-saving solutions for corporations looking to cut annual energy costs. Get the best value & assurance across your whole corporation. Learn how. ...
Read more