How to plan a smart home renovation
Design your smart home renovation with a specialist
The first step when planning a smart home renovation is to engage a smart home specialist.
Like how you'd consult an architect when arranging a home extension. Or how you'd talk with a builder when planning a new carport. Working with a smart home specialist is essential for ensuring the success of your smart home renovation. The earlier you can involve them the better.
When it comes to smart homes and home automation, everyone's aspirations are different. Maybe you want to implement a whole home entertainment system. Or to reduce your carbon footprint with the latest green technology. Or perhaps you want to protect your home and family with a complete security setup.
Your smart home specialist will help you to design a smart home renovation that matches your exact requirements. So you get a system that's tailored from the ground up, just for you.
For information regarding our services, see our home automation page.
Ask your specialist about the latest home automation technology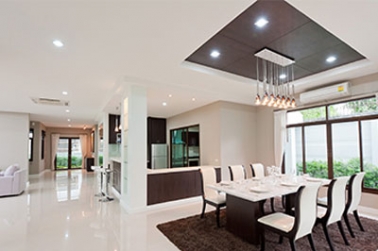 Home automation and smart home technologies have never been more powerful. And new features are becoming more readily available and more affordable every year.
Even if you think you have a pretty good idea of what is possible for your smart home renovation, it pays to enquire with your specialist about the latest smart home technology. You never know what may have come onto the market recently.
Additionally, instead of asking about specific products, it's often a better idea to talk about the functionality that you want to achieve. That way your specialist can design your system around your needs rather than the advantages (and limitations) of any one particular product or system.
Choose an end-to-end technology solution
You wouldn't hire an architect to do half a job. Or a builder to do two thirds of a job. So, when choosing a smart home specialist, ensure that they offer a complete end-to-end service.
Managing a complete technology solution requires a hands-on approach during every stage of the smart home renovation process. Including, perhaps most importantly, during the construction phase.
Your specialist should have the ability to recognise and overcome any issues associated with the complexities of a smart home renovation. This requires both experience and expert knowledge regarding every step of the process.
Choose an end-to-end solution and you'll ensure that your smart home renovation delivers the desired functionality and that your system will work seamlessly across all new and existing areas of your home.
Potential limitations of your smart home renovation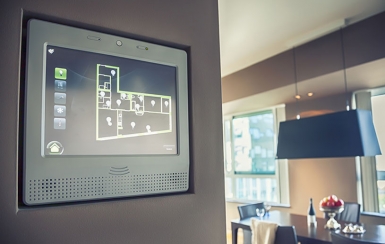 The two best times to implement home automation technologies is, one, during the construction of your home. And, two, during renovations. This is because integrating a smart home involves the installation of smart home wiring and various sub systems.
Should you incorporate smart technology systems after the completion of renovations, then plaster and other materials associated with the existing structures may need to be removed before the smart wiring can be installed. This is regularly more time-consuming and expensive than incorporating the wiring at the time of the renovation.
Another potential limitation comes from renovating heritage listed homes. When installing wiring in the existing structures of heritage listed homes, your smart home specialist must not unsettle or damage the protected areas, including the home's facade.
Most popular features included in smart home renovations
At present, some of the most popular features included in smart home renovations include:
Automated lighting control
Heating and cooling
Energy management features
Security including smart locks and cameras
The most common request is having all of these sub systems controlled with one user interface, such as that seen on dedicated touchscreens, smartphones, and tablets.
Be aware. Ask for accreditations.
When choosing a smart home renovation company, you should always check that company's accreditations, as well as their experience. Some accreditations to look for include:
C-Bus Point One Accredited Integration Professional status
As with all electrical work, your smart home specialist should also be a fully-licensed (A-Grade) electrician. This is your assurance of electrical safety and quality workmanship.
You should also request trusted brands such as Creston Home Automation and Philips Dynalite. Choose the right products and you can expect to enjoy years of reliable service. You should also avoid 'cheaper' and less reputable products; they can cost you a lot more in the long run.
"The first step when planning a smart home renovation is to engage a smart home specialist."


Ready to begin your smart home renovation? Contact ITA.
At Integrated Technologies Australia (ITA), we are your home automation and smart home renovation specialists. Whatever your dream home plans, we can turn them into a stunning reality.
Since 2005 we've worked to develop a reputation as Australia's most trusted smart home name. And today we are recognised as one of the industry's premier specialists. Find out how we could assist you today.
Learn more on our home automation page or call 03 9761 8700
Must Read
ITA on 1 January 1970
ITA provides innovative energy-saving solutions for corporations looking to cut annual energy costs. Get the best value & assurance across your whole corporation. Learn how. ...
Read more