Integrated Technologies Australia (ITA) were not only recognised in the recent global CEDIA awards as a winner in the 'Best Integrated Home' category, they also took out an extra gong for 'Best Dressed Rack'.
ITA specialises in smart automation and energy-saving solutions. We take the latest technologies, untangle the complexity and embed them straight into your home or business. See the winning project here.
CEDIA is the leading global authority in the $US14 billion home technology industry, with almost 4,000 member companies worldwide that manufacture design and integrate goods and services for the connected home.
The annual CEDIA awards recognise technical excellence and product innovation in the home technology industry, and are judged by industry experts.
Winning entries must demonstrate technical excellence in all aspects of design, installation and commissioning and must "demonstrably enhance the lives of those who own and use them''.
State of the art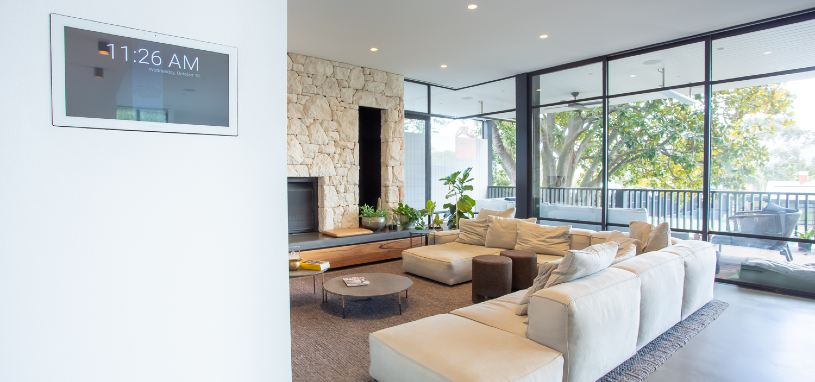 The brief for ITA's award-winning project was to help the owners of a stunning home in Hampton, Melbourne fit state-of-the-art fully integrated home automation technology throughout the property, providing comfort, convenience, security and entertainment while minimising environmental impact.
The sheer scale of the project made it challenging, as it required systems for three separate buildings to work together perfectly. And the ITA team were required to carry out installation during major construction works while respecting the Edwardian home's heritage status.
Simple to use
Nonetheless the job was completed on time and budget to the full satisfaction of the owners.
Using touchscreens or voice across various smart devices, they can now have control of every system in the home through technology.
With an interface that is simple to use and easy to navigate, their smart home system manages:
Entertainment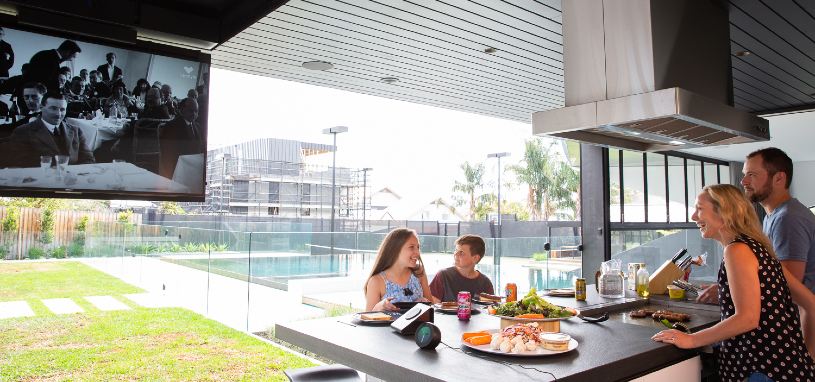 media streaming to 8 TVs
music streaming to 13 areas, including two outdoor settings
2 outdoor 75 inch dropdown 360-degree swivel TVs
a golf simulator with projection, surround sound and voice control
outdoor coloured strip lighting and speakers for entertaining
Lighting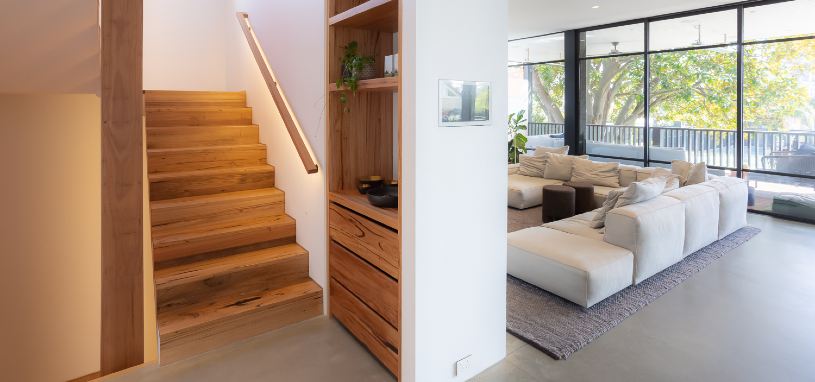 Intelligent lighting with automatic sensing
Energy efficient LED lighting
One-touch scene control
Automatic dimming sensor control
Landscape scene lighting
Security and access
16 HD security cameras that record and stream to smart devices
Access control for all buildings including fingerprint scanners
Smart devices to unlock front gate and front door
Motorised driveway gates
Climate
14 zones of hydronic heating
15 zones of reverse cycle heating and cooling
motorised window blinds
pool and spa heating control
evacuated solar tube water heating
130,000 litre in-ground water tank
zoned irrigation
Communications & data
video intercom linked to all touchscreens and all smart devices
1GB optic fibre link between separate buildings
Crestron Smart Home Control System
Fast data sharing network and Wi-Fi
A flexible 10 GB data wiring infrastructure
Smooth project management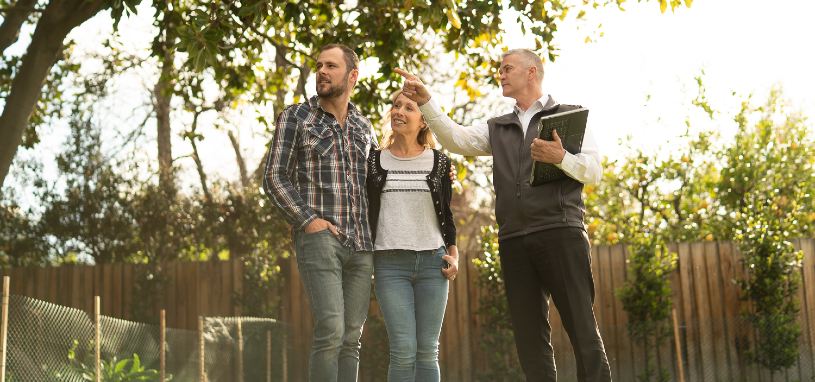 To manage such complex projects from start to finish smoothly, ITA follows a four-step process that keeps the client in the loop at all times.
Consult: Every project begins with an in-depth consultation so the client's needs are clearly understood and goals are well defined. This involves meetings with the clients to understand the features and lifestyle they want to achieve and ensure all possibilities are considered.
Design: After creating detailed system specifications, plans, drawings, schematics, programming and a budget, ITA then selects the best products for each unique job based on their extensive knowledge of the latest electronic and energy systems available.
Build: With working diagrams showing every cable and piece of hardware to be installed, the build process is tightly controlled. In this case ITA's professional and accredited technicians worked alongside the client's builder to ensure all smart systems and wiring were installed correctly during the construction process.
Manage: Every ITA client has a single contact person who is responsible for the complete operation of their project, so they always know exactly who to speak with. They ensures the project is delivered on time and within budget while there is always someone available to answer any queries during the entire process.
Asia-Pacific champions
As the champions in CEDIA's awards for Best Integrated Home Level IV in the Asia-Pacific region, ITA will now go head to head with the category winners from North America and Europe at CEDIA's Global Awards to be held in London.
ITA are dedicated to improving lifestyles and efficiency through technology. To discuss your next project contact our home automation team.
Must Read
ITA on 1 January 1970
ITA provides innovative energy-saving solutions for corporations looking to cut annual energy costs. Get the best value & assurance across your whole corporation. Learn how. ...
Read more