See the future now with smart lighting ideas
Set the scene with customised lighting ambience, control your lighting centrally and time it with the rest of your smart home automation.
Smart lighting ideas have moved us beyond switches and dimmers to connecting your smart lights with compatible devices and voice assistants like Amazon Alexa, Apple HomeKit and the Google Assistant to do all of the above, and more.
We can seamlessly integrate your devices and systems to bring the future of lighting into your home, today. Besides making you feel like Tony Stark, smart lighting benefits can include significant power savings, increase the value of your home and additional security.
To create brilliant lighting effects in your home, we use customised internal and external light fittings, and products like Clipsal or Crestron relay and dimmer modules, and switches and sensors with high intensity LED light fittings.
Let us take you through some concepts forward-thinking homeowners can incorporate to create customised smart lighting for your home.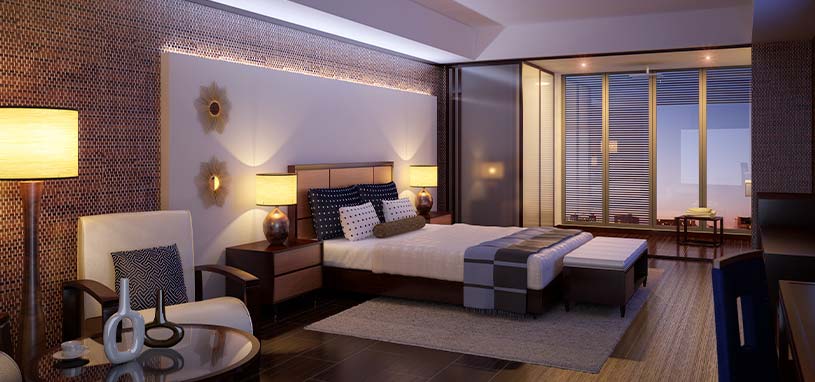 Intelligent indoor lighting
Along with selecting a qualified home automation technician, smart lighting ideas begin with a smart device, smart globes and your imagination. Smart technology design means you can integrate your indoor lighting with other aspects of your home automation.
Light it right
Smart home lighting can add more beauty to your living space. Backlighting over bookcases, art displays, fireplaces and desk spaces create a dramatic impact. Accent hue lighting in cupboard recesses and bulkheads bring dim areas out of the shadows. The brightness and colour can be adjusted. Match your colours to the tone of the room!
Invited guests only
Ward off intruders by giving the impression that someone is at home even when you are not. Lighting patterns are randomly selected to make it look natural.
Set the mood lighting to complement your next party playlist or movie night in
Day to night glow
Replace your alarm sound with gradual intensity lighting in the morning. Yes, that's right. Have your lights gently wake you up like a sunrise to start your day. Receive a warm welcome home when you program your smart lights to greet you when you arrive. If you prefer to command your lights at your convenience, use your voice assistant instead.
Powerful savings
No more walking around turning off lights in empty rooms. No need to find the light switch. Automate it so that smart motion sensors turn the lights off when a room isn't in use and turn them on when you walk in.
Up to 90% energy savings on lighting can be achieved by integrating LED light fittings with Crestron lighting systems, compared with using traditional halogen globes.
Retrofitting isn't always necessary. Smart lighting can often be installed to your existing switches and fittings. So it doesn't have to be a costly exercise to bring Tony Stark elements to your home.
See our smart home installer checklist for more helpful tips on choosing a home automation technician for your smart lighting needs.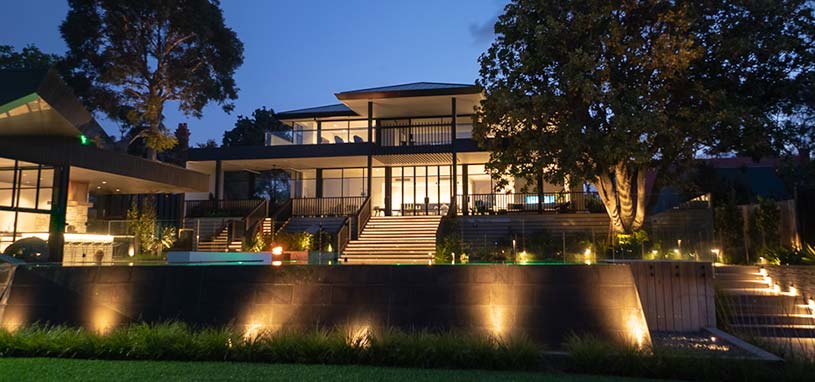 Smart home outdoor lighting
There are many ways to illuminate your outdoor areas for accessibility, security, enhancement - even entertainment. Lighting can be conveniently integrated with your home automation to your programmed schedules and security system status.
Internet-capable LED smart bulbs open up lighting possibilities inside and out, by wirelessly connecting with phone apps to dim, control and change colour.
Timing is everything
Lighting timers can be programmed to come on at set times of the day and adjusted according to each season. Lighting scenarios can also be generated when the security systems are armed, disarmed and as per your requirements.
Light the way
Landscape smart lighting offers an attractive ambience for your garden, pool and entertaining areas. Make the darkness disappear on your paths and garden spaces with multicoloured smart lighting. Use your device or voice assistant to change the settings and bring a stylish outdoor aesthetic.
ITA Home Automation provides you with the technical knowledge and experience that only a home automation technician can deliver. Our expertise and product range mean we can offer you the best possible smart home solutions.
Contact us to discuss how we can intelligently light up your home and backyard with smart lighting options.
Must Read
ITA on 1 January 1970
ITA provides innovative energy-saving solutions for corporations looking to cut annual energy costs. Get the best value & assurance across your whole corporation. Learn how. ...
Read more