Smart Home Security Systems
Designing a smart home security system is so much more than finding the toughest doors, strongest locks, and clearest security cameras. It's as much about creating access for those who need it, as it is about protecting against break-ins and theft.
One of the best ways to figure out the right smart security system for your home, and all your guests, is by collaborating with experts—such as those at ITA—because they can suggest options that you may not have known were possible.
4 key components
Every home or business will have unique security needs. That said, four key components to consider are:

Locks
 There isn't one best type of lock, only the one that's right for a particular point of entry. Choosing appropriate locks not only keeps you safe in your home but also lets you manage access for all the people who need it, from gardeners to dog walkers to delivery people. A fingerprint lock might be the right option for the door to your bedroom, but a keypad might be better for the main gate. Fobs and swipe cards work well for entry points where you want to restrict access because—unlike physical keys—they are difficult to reproduce.
Alarms
Alarms are an integral part of home security. A smart alarm system should make you feel safe and comfortable in your home, and not like you're walking on eggshells trying to prevent a false trigger. Perimeter alarms are an excellent smart option because they give you and your pets freedom of movement. You can incorporate more traditional alarm components—such as sirens and strobes—as well, and pay for ongoing support from a third-party organisation that can dispatch emergency services when necessary.
Cameras
 Cameras often complement alarm systems as they allow you to see what's happening on your property remotely from a smartphone or tablet. But cameras can serve other functions, too. For example, their visual presence can help to deter break-ins. Plus, being able to record and play back footage may be a benefit when contractors, babysitters, and other people are working in your home. Some cameras even double as motion sensors and use thermal detection so that they function in the dark.
Intercoms
Intercoms, on the other hand, let you see and hear what's happening in different areas of your home. Intercoms can operate within the property (from room-to-room, for instance) but you can also route them to your smartphone.
Making security smarter: some examples
Depending on your needs—such as who will be accessing your home, the layout of the property, and the number of entry points—a specialist can help shape your security setup to make it smarter. You can do a lot with the technology available. Here are a few examples:
Install switch reeds on doors, gates, and windows

, and have your smart home send you push notifications every time an access point opens or closes. To make it more intelligent, program the system to notify you only during certain hours.

Program your magnetic locking doors

 to unlock the moment your smoke detector senses potential danger.

Live stream your front gate intercom to your tablet

, and get an alert when someone rings the bell. If you can see it's a delivery, for example, you can tell the courier the entry passcode through the intercom as well as where to leave the package—without having to leave the office.

Program the lights for 'mockupancy,'

 so that it looks like someone is home even when no one is. Create a rule that signals all the lights of your home to turn on automatically when the security system detects an attempted intrusion.

For a property used for short-term rentals, install keypad locks

 that you can reprogram remotely after each guest has checked out. Make guests feel secure with outdoor surveillance cameras that also let you keep an eye on how many people are coming and going.
Trustworthy products and solutions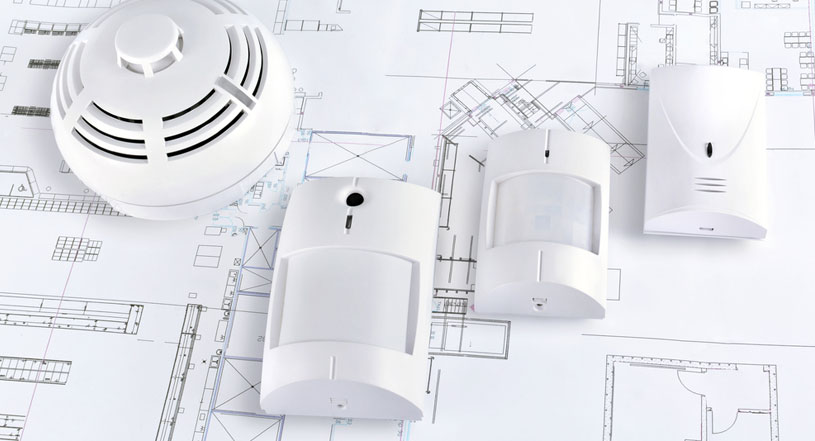 When it comes to security, getting reliable products from dependable vendors is paramount. ITA uses equipment from a few select companies and brands, including Integriti System, Ness, and Mobotix.
Integriti System by Inner Range, based out of Melbourne, develops a technology platform used for smart home security systems. It's the hub for monitoring your home, managing visitor access, receiving alerts related to alarms, and so forth.
Australian company Ness produces a wide range of home security products, including CCTV systems, control panels, and intercoms. Ness has been accredited by the International Organization for Standardization for its quality, customer satisfaction, continual improvement, and adherence to regulations since 1992 (ISO 9001/2000 Quality Standard).
German camera-maker Mobotix specialises in high-resolution video surveillance systems with integrated intelligence. One of its hallmark products for home security, the Mobotix M15D Thermal Security Camera, has two light-sensitive image sensors and two lenses for capturing colour video or high-contrast black and white video, even in dark conditions. The camera can also detect motion and send an image to your smartphone of what it saw.
Explore Your Options With ITA
The ideal smart home security system not only provides safety but also makes you feel comfortable. It should be reliable, easy to use, and should allow appropriate access while deterring intruders.
By working with a specialist from ITA, you can craft a smart home security system that's right for you and your home. Call us on 03 9761 8700 today.
Must Read
ITA on 1 January 1970
ITA provides innovative energy-saving solutions for corporations looking to cut annual energy costs. Get the best value & assurance across your whole corporation. Learn how. ...
Read more