The Latest in Wi-Fi Home Automation
Convenience, comfort, entertainment, safety and energy management are the big ticket items when it comes to home automation in the modern age.
In the 1970s, power and lighting were the only two considerations one had to make when building a home – with anything else being considered an added luxury. Ducted heating was an extravagance, air-conditioning was unheard of and only a single antenna point was needed to power the television. The trusty, motorised B&D garage door was considered the height of home automation.
Cut to today, where the average home has multiple sub-systems as a standard inclusion. These include but are not limited to:
| | | | | | | | | |
| --- | --- | --- | --- | --- | --- | --- | --- | --- |
| Heating | Cooling | Pools & Spas | Irrigation | Water Tanks | Solar Panels | Internet | WiFi | Foxtel |
| Bluray | Music | Home Office | Alarms | Cameras | Intercom | Doors | Lighting | Power |
All of these sub-systems can be integrated to allow entire home control from one 'smart' device.
Although the concept of home automation has been around for a while now, over the past five years the market has experienced considerable growth. A study conducted by emerging technology analyst firm Telsyte found the Australian 'smart' home automation market will generate $289 million in device revenues in 2015 alone, with this number estimated to grow to $3.2 billion by 2019.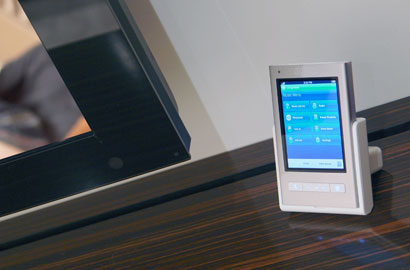 Telsyte's study found that improved energy management, the reduced cost of smart devices and the development of the unobtrusive, wireless installation have all been key drivers for the adoption of 'smart' home automation systems. Here at ITA, we've found that automation technologies are highly sought after across all types of households, and are not just limited to any one demographic.
ITA Director Mike Andrews explains that home automation is not just an impressive system. Rather, it actually has a practical role in bringing greater independence to the lives of the elderly and the disabled. And, if implemented correctly, it can bring considerable energy savings to the household.
"Over the last five years, the price of the technology required to automate has significantly reduced. Items that were $20,000 are now around the $3,000 mark making it more accessible for everyday consumers to acquire," says Mike.
"Saving money starts in the home, so utilising the technology available today will prepare your household for long term savings and convenience."
Home automation draws upon the latest in 'smart' home technology and places it at your fingertips in the form of an easy-to-use, intuitive interface that can be accessed through your smart phone or tablet device.
Home automation technology allows users the convenience of a home that has been personally and intelligently tailored to their unique needs, even allowing users to remotely connect to their home. For instance, if you are driving home from work and you wish to turn the lights on around your property, you are able to do this from your smartphone using the technology. You are even able to pre-set climate controls with your preferred temperatures, so that your house will have an ideal climate for when you walk through the door.
Here at ITA, we have over 30 years' experience in electronic systems as well as multiple industry awards for technology integration in Australian homes. ITA understands the processes, infrastructure and hardware required to deliver powerful and reliable home automation systems that help to ensure ease-of-living whilst saving money in the long-term.
What Can Be Automated?
Internet devices & media
Intelligent Lighting Systems
Climate control (heating, cooling & fans)
Audio & video devices
Window shades & curtains
Security & surveillance cameras
Intercom
Doors, entryways & gates
Pools & spas
Tank water & irrigation systems
Read more about how life can be improved with home automation or contact ITA for further information.
Must Read
ITA on 1 January 1970
ITA provides innovative energy-saving solutions for corporations looking to cut annual energy costs. Get the best value & assurance across your whole corporation. Learn how. ...
Read more