The state of Australian home automation in 2019
The forecasts is in, and it's going to be another huge year for home automation. If you're keen to stay ahead of the latest trends and gadgets in smart home technology, we've put together this sampler of home automation trends for 2019 as an easy reference point.
Conventional wisdom says that trends come and go - but in the case of smart home technology, we believe they come and evolve. The convenience of smart home technology has made it a staple in our busy modern lives, and there's no denying the improvements across both the availability and quality of home automation products.
Without further ado, let's dive into the major smart home trends set to hit Australian shores in 2019.
Keen to explore home automation but unsure where to start? Contact us today to discover what's possible and begin your smart home journey.
Entertainment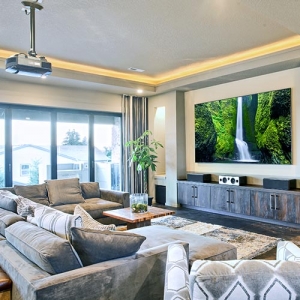 One of the biggest trends in smart home technology, 2019, will be home entertainment. You can expect to see enhanced streaming services, state-of-the-art home theatre and TV systems, and multi-room audiovisual set-ups.
While most devices these days have the ability to 'talk' to each other, integrating the latest home automation technology into your home can create entertainment possibilities that you won't have even imagined.
Last year, we were engaged by the owners of a heritage-listed Edwardian in Hampton, Victoria to create a comprehensive home automation system which would be easy to use and seamlessly integrate every system in the house.
We designed an innovative technology solution that controlled every system, paying particular attention to the entertainment area. Highlights of our design included:
Two concealed drop-down TVs, including 360 degree swivelling functions and preset positions.
Music streaming across thirteen different areas including two outdoor settings.
Automated golf simulator which projected golf balls using voice control.
You may not be that into golf, but in 2019 it may be well worth your time to explore what exciting home entertainment possibilities smart home technology can open up for you.
Security & Access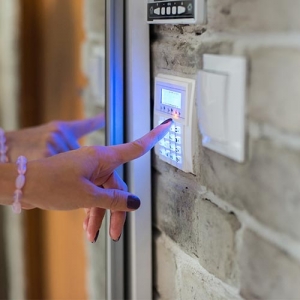 An area in which smart home technology has always excelled, security and access should be an integral part of an home. Key features include:
We predict the rise of keypads will replace more and more traditional locks in 2019, as well as a general spike in sales of easy-to-install smart locks that fit onto existing deadbolts. The latter innovation allows you to keep using the same set of keys while vastly improving your home security.
We also predict that cloud-based storage will come to define connected recording systems in 2019, and that access to recorded footage will increasingly be gained through smartphone apps. Most of today's apps also come with the ability to control indoor and outdoor lights remotely, raise or shut blinds, or perform a series of alert functions when motion sensors detect movement.
These features and functionalities not only give peace of mind, they contribute to energy savings, and are a major reason to use automated security and access systems.
Communications & Data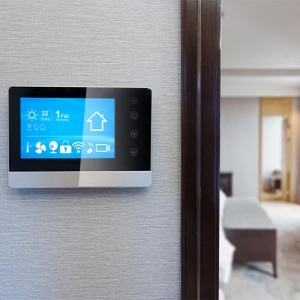 Australia is often perceived to be behind the rest of the world in terms of internet speed and data access, but smart home technology can change all that. By enabling all the devices in your home to connect to the internet - we're talking about clocks, lights, doorbells, windows and appliances as well as computers, smartphones and tablets - you can streamline your home communications and data, making it more efficient and responsive.
Installing a fully integrated home automation system can enable you to control every system with a touchscreen or device, and keep track of your energy usage for you. Some systems even provide estimates on how much powering certain devices in your home is costing you - and in today's sustainability-conscious world, we predict embracing this sort of technology will be a major smart home trend in 2019.
Emergent smart home technology is also swiftly gaining the ability to distinguish between everyday digital practices and interactions in the home and those that involve personal (individual) data. We see 2019 as being a year in which critical leaps are made in the domain of multi-user functions and aggregated profiles. 
Temperature & Lighting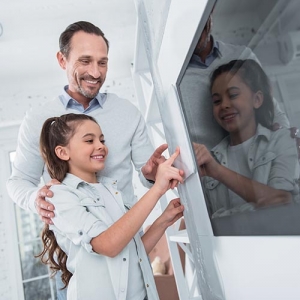 On a cold winter's night, there's nothing better than settling in to pre-warmed house - and on the flipside, in the middle of a scorching summer's day, it's very convenient to monitor your home's temperature and humidity remotely. Smart home technology gives you the ability to control the temperature in multiple zones in your home, boosting your comfort and energy savings.
Multi-zone temperature control technology can be integrated into most home automation systems you may already use, including control lighting, gates, doors, locks and home entertainment systems.
Automated blinds, curtain control and lighting can also help create a comfortable home environment and reducing your energy usage (and bills). They also contribute significantly to convenience and comfort - and there are now a whole host of different options open to those looking to install automated blinds, curtains or lighting.
Keen to learn more?
The state of Australian home automation in 2019 is exciting and dynamic, and hard to sum up in a single blog post. If you'd like to know more about how smart home technology can transform your living environment and quality of life, contact us to discuss upgrading your home.
Our Melbourne-based smart home specialists have both the expertise and product range to offer you the best possible smart home solutions. Our process involves developing a unique scope of work for you which clearly and precisely defines all selected systems and ensures you can easily understand their features and functionalities.
If your dream home is a smart home, find out what ITA Home Automation can do for you. Contact us today on 03 9761 8700.
Must Read
ITA on 1 January 1970
ITA provides innovative energy-saving solutions for corporations looking to cut annual energy costs. Get the best value & assurance across your whole corporation. Learn how. ...
Read more