What is a smart home?
A smart home is a residence integrated with computers and sub systems. Where these technologies are used for the automation of household functions, such as climate control, entertainment devices and appliances. As well as for the purpose of implementing energy efficiencies and renewable energy sources.
Smart homes feature systems which:
Automate everyday household tasks
Optimise your home to match your living habits
Automatically monitor and adjust devices to save energy
Store and manage renewable energies
Integrate entertainment system throughout the home
Ultimately, smart homes vary depending on the homeowner's lifestyle. The technology installed is tailored to suit their needs and their way of living.

It can be hard to know where to start with a smart home. If you're at the early stages of your smart home journey, check out our guide to getting started in home automation.
Common traps to avoid
There are some traps for those new to smart home technology. Here are some of the most common ones and how you can avoid them.
1. Technology not supported in Australia
The Amazon Echo, for example, is a simple off-the-shelf technology which offers homeowners basic smart home functionality. However, right now these systems are only available via import. They have not been released by Amazon for the Australian market.
The drawbacks of this is that:
Not all functionality is available here
The devices are optimised for overseas use
Amazon does not offer Australian troubleshooting
For early adopters, these may be manageable issues. However, for the everyday user, lack of support can lead to regular frustrations and difficulties with accessing basic functions.
2. Not all smart devices are equal
In recent years smart homes have become increasingly popular. And, with big names like Google and Apple now entering the market, it's easy to see this trend continuing.
The downside of this rapid growth in the industry is that some companies have begun rushing devices to market. And, because they're rushed, they lack the Research and Development (R&D) and testing phases which would normally be expected.
Problems with some new devices include:
Patchy or unreliable operation
Lack of features (sometimes even basic ones)
Below-average build quality and appearance
3. Consultants which only promote one brand
Some consultants form alliances with specific suppliers and brands. Because of this, they become very product-focused, as opposed to providing a complete solution.
This limits what they can offer. If they're only interested in one supplier, then they may not have the broad smart home knowledge which is required to deliver a total package.
So, before reaching out to a consultant, check their website and make sure that they are accredited with different brands. If they only have one supplier, it's better to look elsewhere.
Speaking with a consultant vs. your architect or builder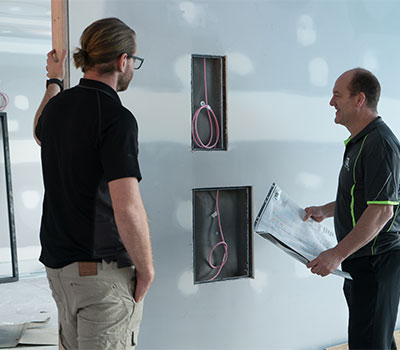 If you've asked an architect or builder 'what is a smart home?' then you'll already know the limitations.
Smart home integration is a different field to both architecture and building. So your architect or builder may only be able to offer general advice. Therefore, if you want an expert opinion, you'll need to speak to a smart home consultant.
Only a certified and accredited consultant can provide the latest and up-to-date industry knowledge. As well as qualified advice on systems and devices that best suit your needs.
They can even work closely with your builder or architect to ensure that your smart technology is integrated perfectly into your home renovation or new build.
Like how your builder is a specialist in building, and your architect is a specialist in architecture, your smart home consultant is a specialist in smart technology. They have the professional skill-set and experience which you need, to ensure that your smart home system is implemented successfully and to the highest standards.
"What your smart home could look like will come down to what you want to achieve with smart technology."
Is a smart home worth it?
A smart home can be as cheap or expensive as you need it to be, with bigger benefits conferred with a bigger price tag. That said, very little expenditure is needed to get started on a smart home. So, no matter your budget, we can find a smart home solution that's worth it for you.
Are smart homes safe?
Smart homes can actually be far safer than non-smart homes. When looking at what a smart home can do, people are often attracted to features like security cameras, smart locks, and other security features. 
Find out more about smart homes. Speak with a specialist.
Ready to take the next step toward your smart home? Have a chat with a specialist at ITA. They can advise you on all of your options, as well as how to make the most of your budget.
An over-the-phone consultation is obligation-free. Whatever your smart home vision we can offer information on how to turn it into a reality. We can answer all your queries with expert and friendly advice.
You can contact us at ITA online.

Must Read
ITA on 1 January 1970
ITA provides innovative energy-saving solutions for corporations looking to cut annual energy costs. Get the best value & assurance across your whole corporation. Learn how. ...
Read more